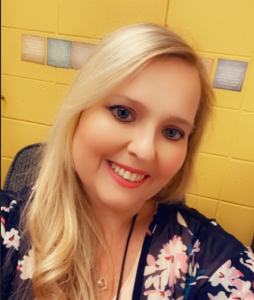 Every student has the ability to learn, some learn faster than others, some learn in different ways than others, but every single one can and will learn given the support and attention they need. We at RJHS make it our goal to be everything our students need when and how they need it.

Amanda Stein
---
I am determined! I am determined to build the best school, faculty, and staff that Rayville Junior High has ever seen. I do this because I believe, because I have faith, because it is my greatest desire to give our students the best and in so doing guide our students to be their very best. I have great love for this community of students, parents, and faculty and it is my dream to build a school together with each of you that we all support and proudly stand with. It is with this belief and strong faith in all of us that I greet each of you.
Last year was difficult to say the least. We opened in the midst of a pandemic. We suffered personal loss within our faculty, administration, community, as well as our student body. There was so much uncertainty, but we overcame, we learned and we adapted. As we begin a new year education no longer looks as it once did here at Rayville Junior High or in Richland Parish. Therefore, I am committed to continuing to ensure that our school is safe for our students and staff. We will continue to closely follow all the guidelines and precautions necessary to complete our goals of educating our students while keeping everyone safe and healthy.
Our goal of developing a culture of mutual respect and academic success by forging strong, positive connections with students so they can achieve independence, build confidence, and gain academic knowledge by providing rigorous instruction to produce college and career ready students will be forefront in our minds throughout this year.
The Dali Lama once said, "When educating the minds of our students, we must not forget to educate their hearts," and that is what we are doing here at RJHS. Our students are ours 8 hours every day. Each member on our staff has a passion for education and a great love for our students here. We have worked tirelessly to create a staff that possess the necessary skills, training, and certification to best serve our students. As a parent I would be confident and proud to have a teacher from RJHS as my child's teacher.
As we begin this school year following the pandemic, I know it brings thoughts of excitement, anticipation, and even concern. It is one of our goals to minimize those concerns especially when it comes to providing a safe and productive environment for academic achievement and excellence.
The junior high years are a time of great social, emotional, intellectual, and physical change from adolescents. In addition, junior high marks the transition from elementary to high school, so students experience increasing independence, as well as new responsibilities. Given all these factors, junior high is a very important and challenging time in the life of a student.
Our goals also include a prominent role for parental involvement in our school activities and projects. We would appreciate parents sharing their interests and level of involvement with their child's teacher during back to school night or set up a time to meet with the teacher. Your child's success and our school's success depends on all of us! Please note some of our meetings will be set up virtually. Each meeting will maintain the level of passion, commitment, support, and sincerity, our parents have been accustomed to.
Another way you can help everyone to be successful is by encouraging our students to obey school rules, guidelines, best practices, and to work hard. We know all of our students are capable of reaching the high expectations we set for them, and we want every class to be as engaging and enlightening as it can be. This can be best done by helping us to help our students follow the rules and expectations we set forth.
I embrace the idea that the students, parents, teachers, staff, administration, and the community are willing to do all that is necessary, to accomplish this collaborative task. We will show, together we can accomplish great things, the greatest of the these being setting our students up for success throughout their lives.
My belief, my goal, my mission is to give our students the best education they can receive here at RJHS. WE are continuously learning and growing as a faculty and staff which allows us to help all our students learn and grow. We believe all students can learn, they can achieve, they can succeed and with everyone's help that's exactly what will happen.
We are committed to teaching high academic standards empowering our students to meet the needs of the 21sth century. We collectively believe the following:
Students should be given opportunities to learn in meaningful ways
Freedom of expression and creativity enhance learning
A cooperative learning environment encourages self-esteem, personal responsibility, and respect for others
Concerned teachers provide positive influence
Effective discipline and attendance must be consistently applied throughout the school system
Positive interaction between school, parents, and community is essential
School should provide a safe, clean, and properly equipped environment in which to learn.

I am excited about the upcoming school year. I look forward to meeting each of our new sixth graders, and welcoming back our returning seventh and eighth graders. Please feel free to contact me with any questions or concerns.
Thank you in advance for helping us to create an amazing school year. On behalf of our staff, we are grateful for your trust in us to provide for the education of our students.
Amanda Stein
"The most beautiful things in the world cannot be seen or even touched. They must be felt with the heart."

Helen Keller