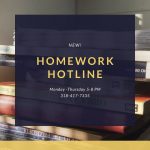 Richland Parish Homework Hotline Frequently Asked Questions
What days and times will the Homework Hotline be open?
You will be able to access the Homework Hotline on Mondays, Tuesdays, Wednesdays, and Thursdays from 5:00 until 8:00. The Homework Hotline will be closed on Fridays and school holidays. Please see the school calendar for school closure dates. The Homework Hotline will open on Monday, January 25, 2021 and staffed by Richland Parish teachers from across the parish.
How do I access the Homework Hotline?
The phone number for the Homework Hotline is 318-417-7335 You will be asked to select English Language Arts or Math. After you select the grade level, you will be connected with a teacher that will be able to assist you.
What information should I have when calling the Homework Hotline?
The operator will ask for your child's name, school, and specific grade level. The operator will then ask about the specific assignment.
What if my child forgot what homework was assigned? Will the operator be able to tell him/her what homework was assigned?
No, the operator does not have access to every teacher's specific homework assignments for each day. The caller must identify the assessment for which he/she is requesting the assistance.
How long will it take to get assistance from the Homework Hotline operator?
The wait time will vary based on the number of calls the operator receives. You may be placed on hold until the operator can assist you. If the number of calls are high, the operators may limit the number of problems they can address in a single call. If you need further assistance, you may be encouraged to call back.
What should I do after I contact the Homework Hotline?
Each caller is encouraged to complete an evaluation of the Homework Hotline after each use. Your responses will be anonymous and we will use the information to improve the hotline. The following QR code will take you to the evaluation form.
Is there a district contact in case I have a question or concern about the Homework Hotline?
If you have questions or concerns about the Homework Hotline, please contact Aleasha Waller at awaller@richland.k12.la.us. You may also write your concerns on the Homework Hotline evaluation form.